Plumbing Experts in Cedar City UT
With over 60 years in business and countless years of experience in the industry, Jackson Plumbing and Heating provides a wide range of plumbing and heating services. Call 435-586-6043 for a free estimate in the Cedar City area!
Contact Us
How We Came to Be
In 1958, Douglas Jackson, born and raised in Cedar City, Utah, decided to move from his position as plant operations and facility maintenance at the College of Southern Utah to open his own business called "Doug's Plumbing & Heating." Doug was no stranger to the industry, as his father was a building contractor and real estate developer. After his natural transition to owning his own plumbing company, his son Terry then joined the business and the name was changed to "Jackson Plumbing Heating & Solar." This name was later changed to its current name when Doug retired in 1987. Jackson Plumbing and Heating was founded by experts in the industry and has continued to employ experts ever since!
Guaranteed Professional Workmanship
Over the years, we have provided a full range of heating and plumbing services, from simple plumbing repairs and drain cleaning services to installation of entirely new plumbing systems for new construction. We have also been involved in many noteworthy projects, such as at the president's home on the Southern Utah University Campus, the Town and Country Motel, and the Gen Pak & Longview Fiber factories. We have also worked in the construction and renovation of residential homes, business buildings, and mountain cabins on Cedar Mountain.
Serving Southern
Utah Since 1958
Licensed and insured in the state of Utah, our master and journeyman plumbers have had thousands of hours of on-the-job experience in addition to their four years of mandatory apprentice training at a state-approved technical college. Along with this education, each of our trained plumbers had to take and pass rigorous written and practical state-issued examinations. We also attend continuing education classes each year, and are fully-insured with workers compensation and liability insurance. We are confident in our expertise as well as the products we sell and the services we offer!
We specialize in the following plumbing and heating services: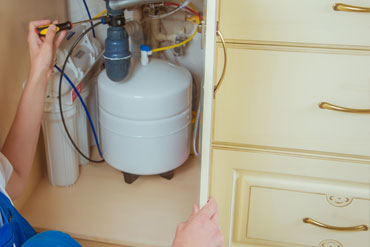 Friendly and Helpful Advice
When you choose Jackson Plumbing and Heating, you will be guaranteed professional workmanship delivered in a professional, prompt manner. With our friendly and helpful advice and our wide array of services, we can provide a solution for any plumbing or heating need. Whether you are looking for high-quality bathroom fixtures, a new tankless water heater, residential or commercial boiler service, or another type of plumbing project, we do it all.
Service You Can Rely On
Jackson Plumbing and Heating is a BBB-accredited business and is also a member of the Utah Plumbing and Heating Contractors Association, meaning we maintain the high standards required to be a part of these organizations. For plumbing and heating service you can rely on, turn to Jackson Plumbing and Heating – we take pride in our work & find satisfaction in making a contribution to our local community!
Testimonials
Thanks to Dennis for service he was polite and helpful he did a great job.
Dennis Williams from Jackson provided service to our new home. The services were excellent, he used quality materials and explained everything he did. He also provided tips for seasonal water shut-off. We highly recommend this company.
Jackson Plumbing has been great. We had some work done in a new office space and they were able to get us worked in on there busy schedule for the next day. Dennis one of the master plumbers went above and beyond service when we had him do a few more things then he was scheduled for. There work is excellent.
I had some problems with some plumbing at my house. I had a bad clog that was backing up my shower drain. Kiefer and Dennis were the ones that come over and they did a great job. They were super friendly and really great at keeping me informed on what they were doing. Rates were great too! Love this place, Will call again.
Number one guys to call in cedar city.
Dennis and Kyle installed a master shut off valve in an accessible place. Life will be much easier. Very professional and pleasant to work with.
I had Dennis just do a small remodel in a bathroom and he did a really good job took less than 2 hrs I would recommend them to anyone also we have used them for a long time and happy with there work I won't use anyone else.
Dennis and kiefer did an excellent job jetting our drains they were very conscientious about keeping the areas protected and clean as they did their job. Very fast , and fair with the price they charged. We have used them in the past and their quality of work is always great! I highly recommend them!
They came the same day and fixed our problem. Very thorough service, excellent technicians. I highly recommend them.